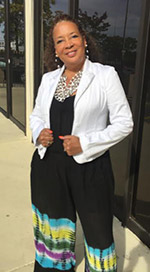 I am Renée McRae, Poet, Workshop Facilitator and Success Coach. Although I received my degree in legal secretarial and paralegal studies and for 20 years worked in some of the most prestigious law firms around the country, for me, something was missing. Futilely in search of the proverbial "Pot of Gold at the End of the Rainbow," I began to explore a multitude of careers. I sold cars; I became a NYC Licensed Real Estate Salesperson; I created a legal temporary agency; I sold medical alert systems and even drove limousines. I acted in some plays and was a marketing director for 2 different companies before realizing the true search – begins within.
A believer in my mother's favorite adage "No knowledge is wasted," this multitude of positions reinforced in my mind, and reflected in my life, what I have always known in my soul:
"You will have or be anything you choose."
Founder of Poetic Motivations, LLC, a personal development training company, Renée delivers programs that focus on self exploration and navigating to a place called SUCCESS! Whether you are looking for purpose, passion, a successful relationship or financial abundance, you will leave her presentations excited and armed with the necessary tools and ability to turn your dreams into reality.
Author of 'Truth in Rhyme,' and co-author of 'Stepping Stones to Success' and 'Mastering the Art of Success,' alongside Deepak Chopra, Jack Canfield, Les Brown and others, Renée is dedicated to the field of personal transformation. With over twenty years of workshop facilitation experience, Renée is still excited about every presentation and looks forward to the "Ah-ha Moments" her participants will inevitably experience.
Renée has certifications in Professional Coaching, Conflict Resolution, Domestic Violence Prevention, Infinite Possibilities and Effective Teacher Training.
Her clients include Performing Artists, Parent Leaders, Universities, Shelters, Schools, Women, Juvenile Detention Centers, Mental Health Facilities and Substance Abuse Programs.
Founder – Poetic Motivations, LLC
Author – Truth In Rhyme
Co-Author – Stepping Stones to Success (w/Deepak Chopra)
Co-Author – Mastering the Art of Success (w/Jack Canfield)
Published – National Library of Poetry (8 anthologies)
Published – Famous Poets Society
Talk Show Host – "Fade To Black" QPTV and BCAT
Featured Guest – Health Watch – Dr. Gerald Deas
Featured Guest – The Hottest Poets WABC
Featured Guest – Unwrapped (WAOK/Atlanta)
Poet of the Month – Quarterly Black Book Review
Poet of the Month – C&B Book Distribution
Fences – "Rose"
Five on the Black Hand Side – "Stormy Monday"
"Using original poetry, rapping and rhyming as a springboard, she connects with her audiences right where they are and takes them on a journey of invaluable life skills through self-exploration and personal assessment. Renée uniquely empowers and inspires through spoken word – yes, poetry! While participants may learn the difference between a limerick, ballad, metaphor and haiku, more importantly they are gently guided down a path of self-discovery resulting in increased self-esteem, self understanding and self determination. Highly sought after for her poetic keynotes and unique presentations, her audiences gravitate to, and in fact connect with, her every word because she speaks their language, the Truth – In Rhyme!"